---
TRAINING       PARAMETERS       MATERIAL REQUEST       MAKERBOT PERMIT
Rapid Prototyping Laboratory
NEW! Due to COVID-19 and SEAS Resumption of Research Activity….
1. New users must contact Peter Bruno about setting up a training time.
2. Researchers with no users of the space can request jobs to be completed by MEAM Labs staff by contacting Peter Szczesniak, check the PML Contract Work page for details and requirements.
3. Researchers who are previously trained users of the facility AND have resumption of research access may request a day using the following link
https://meamrpl.youcanbook.me/
. Starting July 1st any time after 12 pm is open to users with access, no reservation necessary. If you had not previously reserved a time please contact Peter Bruno about access.
If you have questions or concerns about using the space or your reservation please check in with Peter Bruno.
The Rapid Prototyping Laboratory (Towne 167) contains four Universal Laser PLS 4.75 flatbed laser cutters and a fleet of 3D printers for hands-on exploration. Four designated PC workstations that are networked to the laser systems are available to provide support for part design and fabrication. The lasers provide students the ability to cut various nonmetallic materials, while the printers offer the ability to 3D print prototypes out of PLA plastic.
Staffed Hours  – During academic sessions (see calendar):
Mon-Thurs: 9AM-9PM ,  Fri: 9AM – 6PM,  Sat: 12PM – 6PM,  Sun: 12PM – 9PM else= ["During summer session:
Mon-Fri: 12PM-3PM" (see calendar)]
RPL Map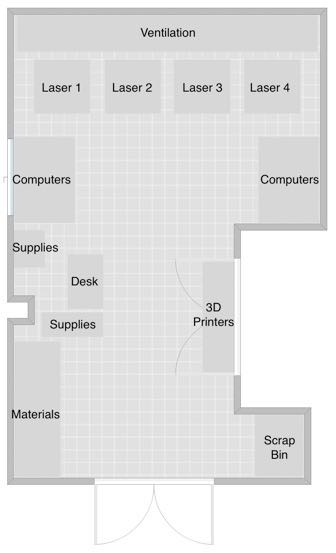 ---
Staffed Hours

---